Smile distribution!
Un peu d'histoire pour commencer: la journée mondiale du sourire est célébrée le 1er vendredi d'octobre depuis 1999. Elle a été imaginée par l'artiste Harvey Ball qui n'est autre que l'inventeur du Smiley!
Chez bbuble, le Smiley nous fait penser à un autre artiste que nous aimons beaucoup: Takashi Murakami. Son univers coloré et fantastique est une source d'inspiration très forte. Ces petites têtes rondes nous font penser à nos perles :)
Revenons-en à nos sourires: ce "world smile day" a pour objectif de promouvoir les actes délibérés de gentillesse. Ça me fait penser à ce poème, un chouilla désuet, affiché dans le vestibule de la maison de campagne de mes grands-parents: "un sourire ne coûte rien et pourtant il n'a pas de prix, il enrichit celui qui le reçoit, sans appauvrir celui qui le donne...". On le connait par coeur mais on ne peut pas s'empêcher de le lire à chaque fois qu'on passe devant et immanquablement ça nous colle le SMILE!
Et comme j'ai très envie de vous faire (sou)rire aujourd'hui, je vous partage la blague préférée de ma fille :
2 oeufs discutent entre eux:
le premier dit :"dis donc t'es drôlement poilu"
le second répond: "t'es con ou quoi? Je suis un kiwi"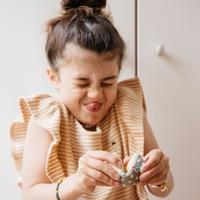 LOL!
Bbuble

quand ça va vite !
Les bracelets sont confectionnés et expédiés sous 72 heures.
Gift Finder
Looking for the perfect gift?
Small attention or big occasion, let our idea engine guide you to find the perfect gift!