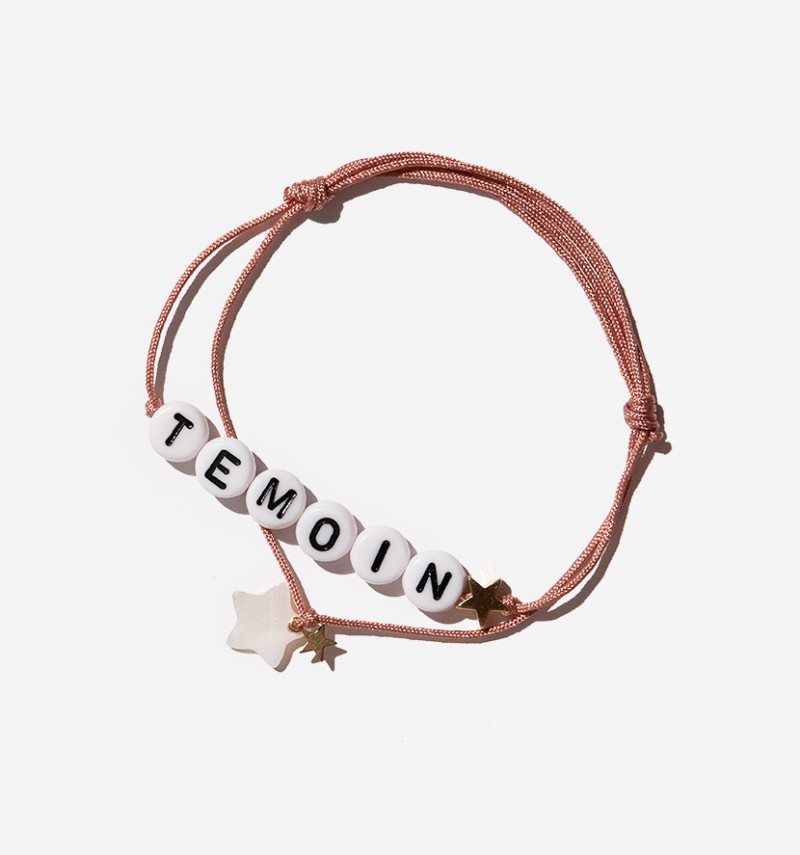 iconic one star cluster bracelet TO PERSONALIZE
Two cords knotted together: one for the pearl letters, the other for the magic of a pearly star with it's friend, a small, golden star.
A sweet and poetic blend.


The bracelet closes thanks to two sliding knots. The size of the bracelet is adjustable by sliding the knots.
Guide de tailles
Guide d'entretien
Guide des tailles
Pour les bracelets à personnaliser
BB
Poignet bébé 2 ans et moins
XXXS
Poignet enfant entre 3 et 6 ans (environ 12 cm)
XXS
Poignet enfant entre 7 et 10 ans (environ 13 cm)
XS
Poignet jeune ado ou très petit poignet femme (environ 14 cm)
S
Petit poignet de femme (environ 15 cm)
M
Poignet femme (environ 16 cm)
L
Poignet fort femme ou petit poignet homme (environ 17 cm)
XL
Poignet très fort femme ou poignet homme (environ 18 cm)
XXL
Poignet fort homme (environ 19 cm)

Les bracelets ferment grâce à des noeuds coulissants : ils sont donc ajustables. En commandant la bonne taille, vous nous permettez de créer un bracelet " sur mesure "

Pour les bracelets de la collection :

Les bracelets enfant correspondent à un XXS

Les bracelets femme correspondent à un M

Les bracelets homme correspondent à un XL
Guide d'entretien
Bracelets à noeuds coulissants
La plupart de nos clients n'enlèvent jamais leurs bracelets et sont ravis de leur qualité. Nous attirons toutefois votre attention sur le fait qu'en les portant en permanence et en les exposant à l'eau, aux savons, crèmes, gels, frottements, vous prenez le risque de voir les cordons et les perles s'user prématurément et les pampilles (hors or 18 carats) s'oxider.
Colliers et bracelets à fermoirs
Il est conseillé de retirer les bijoux comportant des fermoirs pour dormir, ces derniers pouvant céder s"ils sont trop " sollicités ".
Colliers chaîne, bagues, boucles d'oreilles, joncs plaqués or
Nos bijoux sont plaqués par un excellent doreur français. Nous n'avons que des retours positifs sur la qualité de notre plaquage alors que beaucoup de clients gardent leurs bijoux en permanence. Toutefois, cela reste du plaqué... Il faut donc éviter les contacts répétés avec l'eau et les produits type parfums, crèmes, lotions, gels, produits ménagers...
Lorsque vous ne portez pas vos bijoux, nous vous conseillons de les ranger dans une boîte à l'abri de l'humidité.
Bbuble

quand ça va vite !
Les bracelets sont confectionnés et expédiés sous 72 heures.
Moteur à idées cadeaux
À la recherche du cadeau idéal ?
Petite attention ou grande occasion, laissez-vous guider par notre moteur à idées pour trouver le cadeau rêvé !