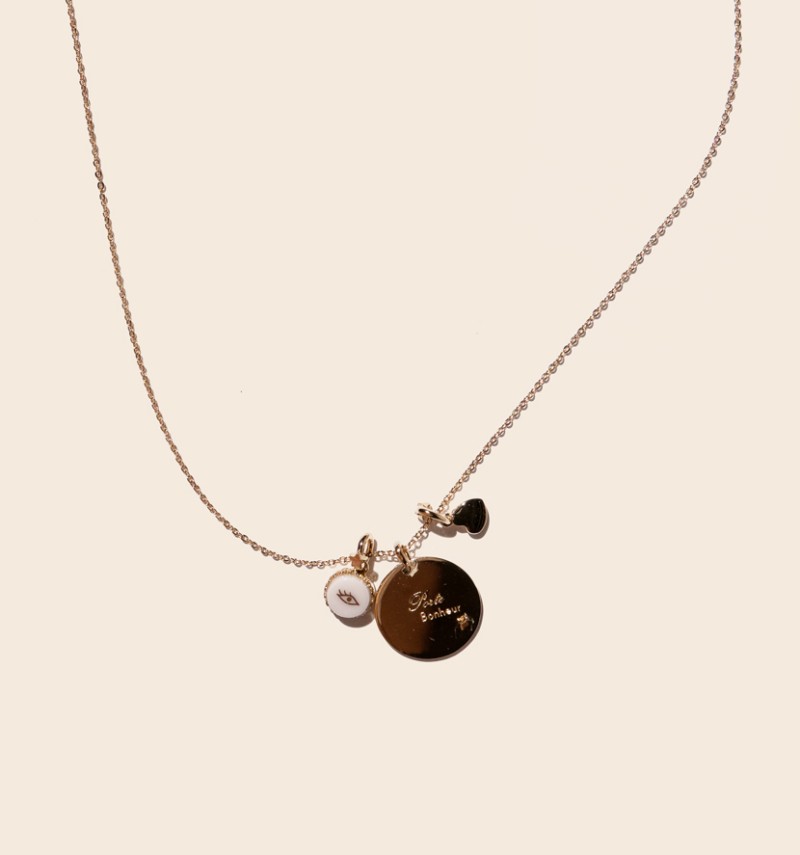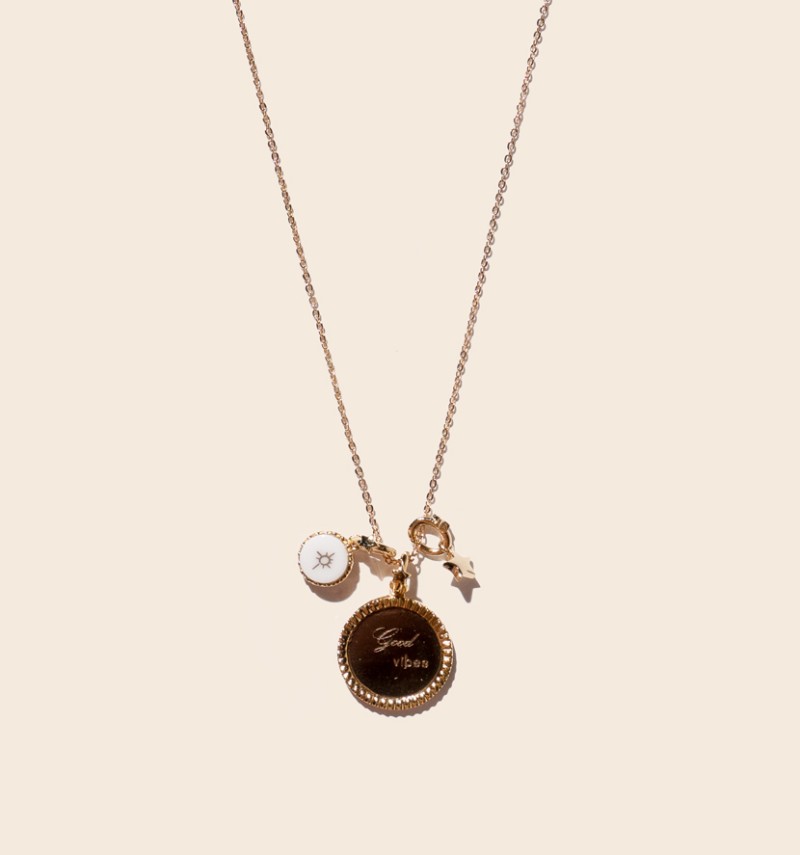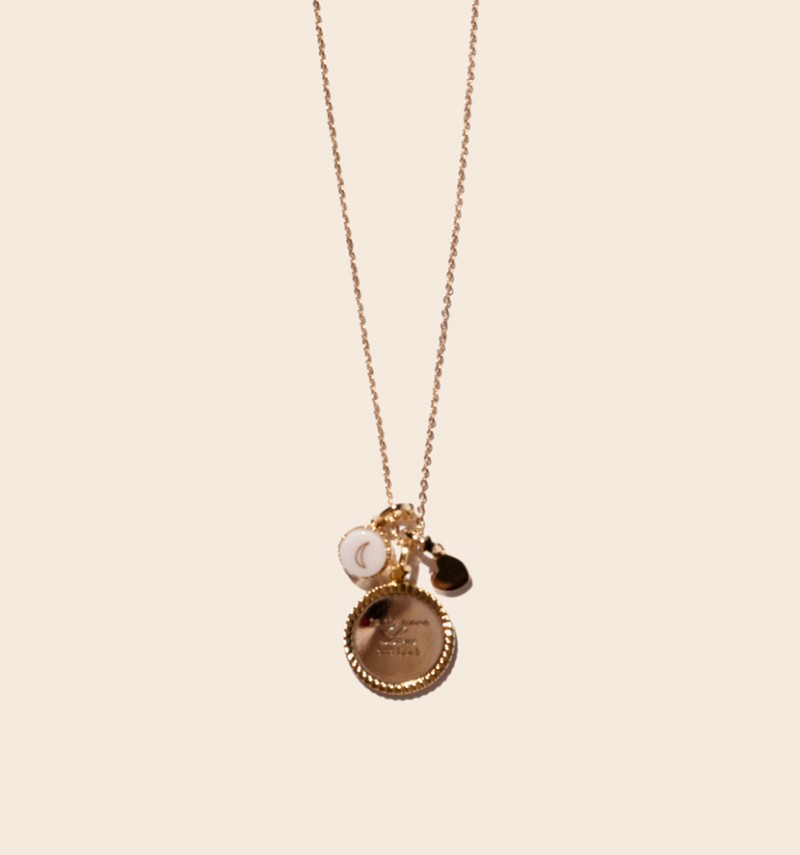 medal TO CUSTOMIZE
BBUBLE presents its precious MEDAL.
The star medal is 15 mm in diameter, it is round and is decorated with a beautiful small star in relief.
The lace medal is 15 mm in diameter, it is round and has a beautiful lace fluted design.
Our medal can be worn alone but, for a MAXI BBUBLE EFFECT we recommend associating it with 1 (or 2) ceramic charms and a small gold charms.
The medal can be customized. On 1 line, or 2. When you choose 2 lines, the font is different on each (BBUBLE touch!). One cursive font, 1 stick font. If you prefer a single font (in this case it will be cursive), you can indicate it in comments.
The ceramic charms can also be customized.
For the gold charms you can choose between a pretty heart or an adorable star.
The medal, the support of the ceramic charms and the gold charms are plated with 3 microns gold (by a wonderful French craftsman who works for the most famous houses). Each element is mounted on a bélière (small ring that allows to attach the medal or the charms to the chain). Each clasp features a lovely star (BBUBLE touch again!).
All the elements are handmade by an artisan, so they are perfectly unique.
We recommend that you combine the medal with our chain as they are a perfect match. 
We offer 4 sizes of chain: 38 cm (child or choker for small necks), 40 cm (choker), 48 cm (intermediate - perfect to associate with other chains), 56 cm (necklace).
size guide
care instructions
size guide
Pour les bracelets à personnaliser
BB
Poignet bébé 2 ans et moins
XXXS
Poignet enfant entre 3 et 6 ans (environ 12 cm)
XXS
Poignet enfant entre 7 et 10 ans (environ 13 cm)
XS
Poignet jeune ado ou très petit poignet femme (environ 14 cm)
S
Petit poignet de femme (environ 15 cm)
M
Poignet femme (environ 16 cm)
L
Poignet fort femme ou petit poignet homme (environ 17 cm)
XL
Poignet très fort femme ou poignet homme (environ 18 cm)
XXL
Poignet fort homme (environ 19 cm)

Les bracelets ferment grâce à des noeuds coulissants : ils sont donc ajustables. En commandant la bonne taille, vous nous permettez de créer un bracelet " sur mesure "

Pour les bracelets de la collection :

Les bracelets enfant correspondent à un XXS

Les bracelets femme correspondent à un M

Les bracelets homme correspondent à un XL
care instructions
Bracelets à noeuds coulissants
La plupart de nos clients n'enlèvent jamais leurs bracelets et sont ravis de leur qualité. Nous attirons toutefois votre attention sur le fait qu'en les portant en permanence et en les exposant à l'eau, aux savons, crèmes, gels, frottements, vous prenez le risque de voir les cordons et les perles s'user prématurément et les pampilles (hors or 18 carats) s'oxider.
Colliers et bracelets à fermoirs
Il est conseillé de retirer les bijoux comportant des fermoirs pour dormir, ces derniers pouvant céder s"ils sont trop " sollicités ".
Colliers chaîne, bagues, boucles d'oreilles, joncs plaqués or
Nos bijoux sont plaqués par un excellent doreur français. Nous n'avons que des retours positifs sur la qualité de notre plaquage alors que beaucoup de clients gardent leurs bijoux en permanence. Toutefois, cela reste du plaqué... Il faut donc éviter les contacts répétés avec l'eau et les produits type parfums, crèmes, lotions, gels, produits ménagers...
Lorsque vous ne portez pas vos bijoux, nous vous conseillons de les ranger dans une boîte à l'abri de l'humidité.
Bbuble

Pour vous le prouver, en plus du soin apporté à chaque commande, BBUBLE vous offre la livraison à partir de 150€ d'achat (en France)! En plus, si vous cochez la case « ceci est un cadeau », votre commande sera emballée dans une petite pochette cadeau, vous avez aussi la possibilité de joindre un petit mot à votre envoi.
Gift Finder
Looking for the perfect gift?
Small attention or big occasion, let our idea engine guide you to find the perfect gift!